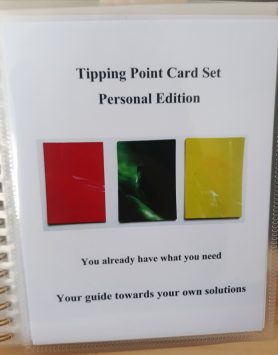 Do you want to make steps forward to bring more joy in your life, but don't you know how? Do you think you need someone else to show you the way?
You are more capable than you think you are!
Unconsciously you know what holds you back from your goal. This card set helps you to make this inner knowledge visible.  By drawing cards from the decks you will obtain focus upon your issue and your solution as well.
When you want to reach your goal you need knowledge and undertaking action. This card set provides you of the knowledge, undertaking the action lies in following the clues of the cards from the green deck.
In daily life you are quite often distracted by tasks, the opinion of others and following your own thoughts. Because of this you lose sight of your inner (intuitive) knowledge.
This card set brings you back to yourself to make steps which will make a real difference for you.
Your goal can be closer than you think, but the core issue is that you start putting yourself first in your daily routine.
When you start acting according to your needs, this card set will be a signpost that will give you the leads where to focus upon.
You will get the maximum result with a loving and caring approach of yourself and to support you in this you draw cards from the yellow deck.
If you want to know more about this card set, you can watch the Facebook live show about me here.
The card set consists of three decks:
Your issue (36 cards, red)
Your needs (72 cards, green) and
Your supportive card of the day (36 cards, yellow)
To clarify your situation, you draw cards out of the three decks.
Each box has a unique Encaustic Art painting on the lid.
The cards will be delivered in a wooden box, which is a nature product.
The box will be finished and personalized manually.
Because of this the product might show unevennesses.
Manual :
41 pages in plastic with background information,  step by step instructions and examples.
Size box (lxize bxh)          13cm x 9cm x 7cm
Number of cards:               144
Material cards:                   Full color DCP 200 grs
Language of the cards:    English.
Price:                                       € 49,95.
A part of this card set is free support to help you to get familiar with this set. You  can ask your questions by sending an e-mail to me or by scheduling an online appointment in the appointment calendar.       
You can order the set for shipping to an address in Germany, Belgium or the U.K. in the webshop of Soul Insight.
Would you like this product to be shipped at another country? Please order then by filling out the form below. After your order I will contact you to inform you about the total cost (shipping included). 
I will provide you of a payment link you can use to pay with Ideal. As soon as I received the total amount I will ship the order. You will receive a conformation by e-mail.