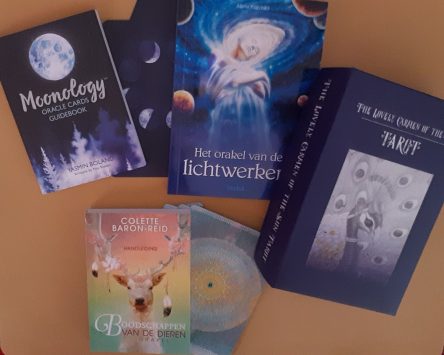 As a medium and energy reader I will show you card readings with my own card decks combined with several Tarot decks and oracle decks. There is a Dutch playlist and an English playlist.
Purpose of the readings
The purpose of these card readings is to bring you clarity in your process, the obstacles you may experience and how you can overcome these obstacles.
The readings give you clarity towards your next steps. I will shine a light on the hidden obstacles and possiblities in you. For me, it is all about the truth. Truth may hurt or be confronting, but in the end, when you are willing to face the truth, you will be able to liberate yourself and create a better life for yourself.
What to expect?
Your bridge towards your future (past, present and near future)
Your co-creation with Universe (your current situation with the Divine)
Messages of the spiritual world (deceased ones, ancestors and Angel messages)
Important to know
Follow your gut to pick up what resonates for you and leave the rest for someone else.
My readings are meant to advice you in your situation, of course it is up to you to decide for yourself what to do with this advice. My focus is on how to reach your goals, not if or when you reach them.
I don't give medical advice, I am not a doctor. If you are experiencing health issues, please visit your doctor.
The readings are timeless and general. For now I don't do personal readings. If someone approaches you on my behalf for a personal reading, be warned, it is not me.
Donations are very welcome. My intention is to make my channel grow and reach as much people as possible. Your comments and subscriptions help a lot! Click the bell to make sure you don't miss out my new videos.
I appreciate your donations: